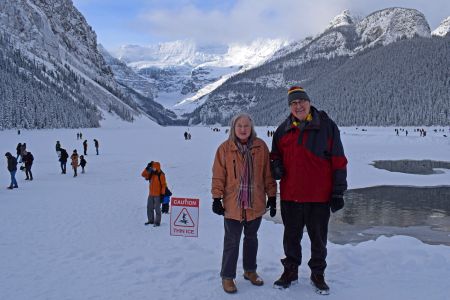 We flew to Calgary, Alberta after Christmas – where we spent our first day with friends. Then we went to Canmore and Lake Louise – our favorite places in the Canadian Rockies. The snow and the weather were great for cross-country skiing, which Marilyn enjoyed.
Canada, December 2022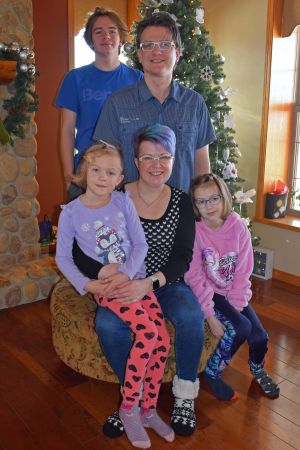 We spent New Year's Eve and New Year's Day with two of Marilyn's brothers and their wives – and with Marilyn's godchild and her family. We watched the ball drop in NYC at 10 pm (Alberta time) - and then the next day, we visited the graves of Marilyn's parents, grandparents, great grandparents, a nephew and a sister-in-law. This has become a tradition, as we've been doing this for more than 30 years.
Canada, December 2022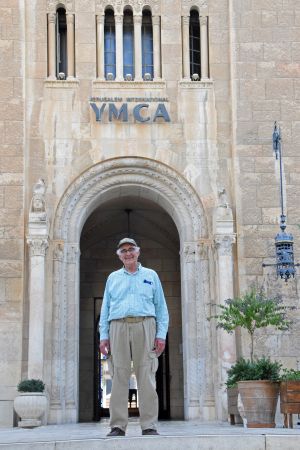 We stayed at the YMCA Three Arches in Jerusalem, and from there we walked down the hill, through a glitzy mall, up the stairs and through a gate into the Old City. From there we walked to the Western Wall and the Temple Mount – and then up Via Dolorosa, where Jesus had carried His cross, to the Holy Sepulcher, where he was buried.
Israel, September 2022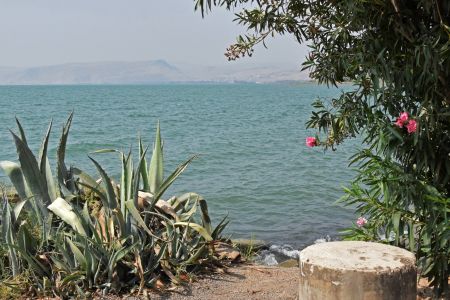 We spent four days in the Mount of Beatitudes Guesthouse, where from our window we looked out at the Sea of Galilee. From there we visited the site of the Loaves and Fishes miracle, the synagogue and Peter's Home in Capernaum, Cana, Nazareth, and the Galilee Boat.
Israel, September 2022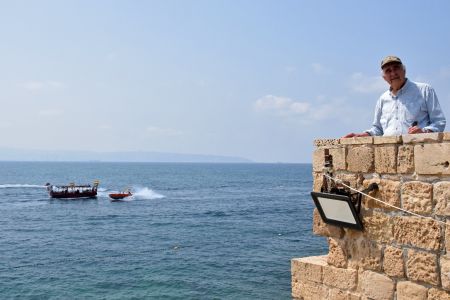 We went to Akko, which is featured in "The Source". It is a port on the Mediterranean, and it was mentioned in Egyptian Texts 4000 years ago. We walked along the Old City wall, and then took a train back to Tel Aviv and Jerusalem.
Israel, September 2022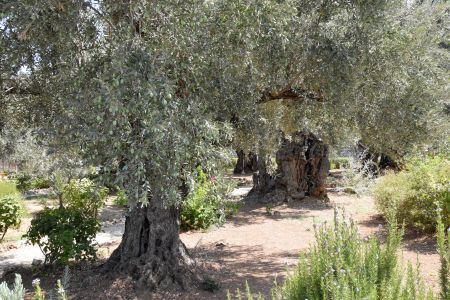 We spent most of our last day in Jerusalem on the Mount of Olives. We saw the eight 2000-year-old olive trees in the Garden of Gethsemane where Jesus prayed and was arrested. It was very moving to see people kneeing with their hands and faces on the rock in the Basilica of Agony.
Israel, September 2022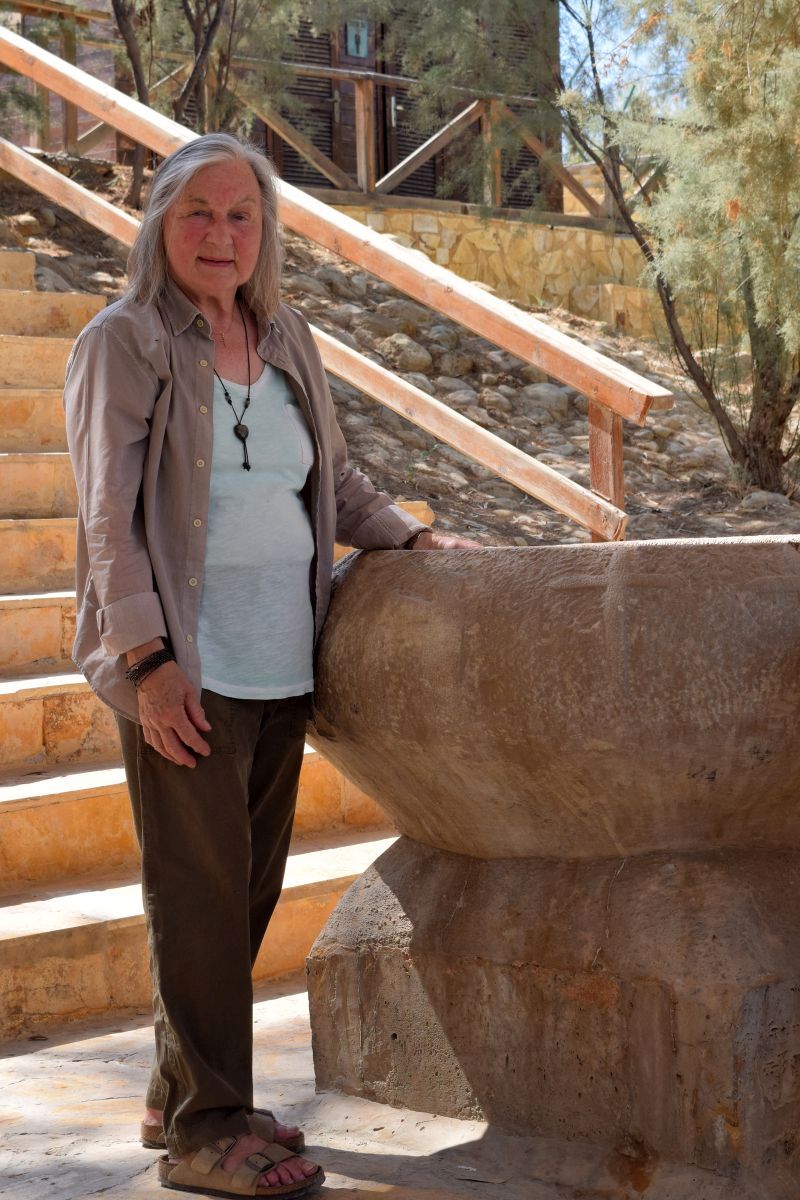 The Baptismal Site is first place in Jordan that we visited. Marilyn went there in 2021 while John was in our hotel room after testing positive for Covid. This time he got to see the muddy Jordan River – the middle of which is the border between Jordan and Israel. The nearby fount with clear water is a more inviting place to be baptized.
Jordan, August 2022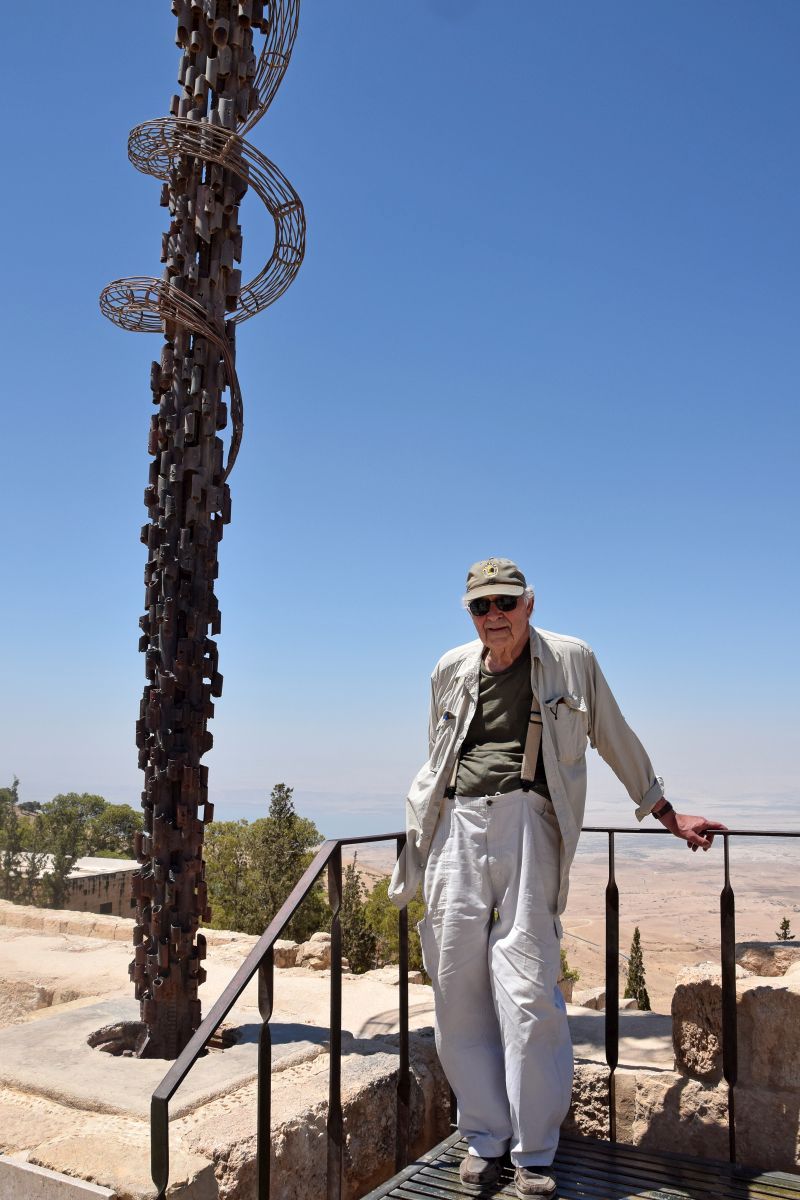 Our next stop was Mount Nebo, where Moses looked out at The Promised Land. It is mostly brown. The green areas are irrigated. You can see the Dead Sea which is really salty. The Jordan River flows into it with water from the Sea of Galilee, but no water flows out of it. The Israelis are desalinizing the water and using it for irrigation – to turn the desert into a garden - with lots of olive trees.
Jordan, August 2022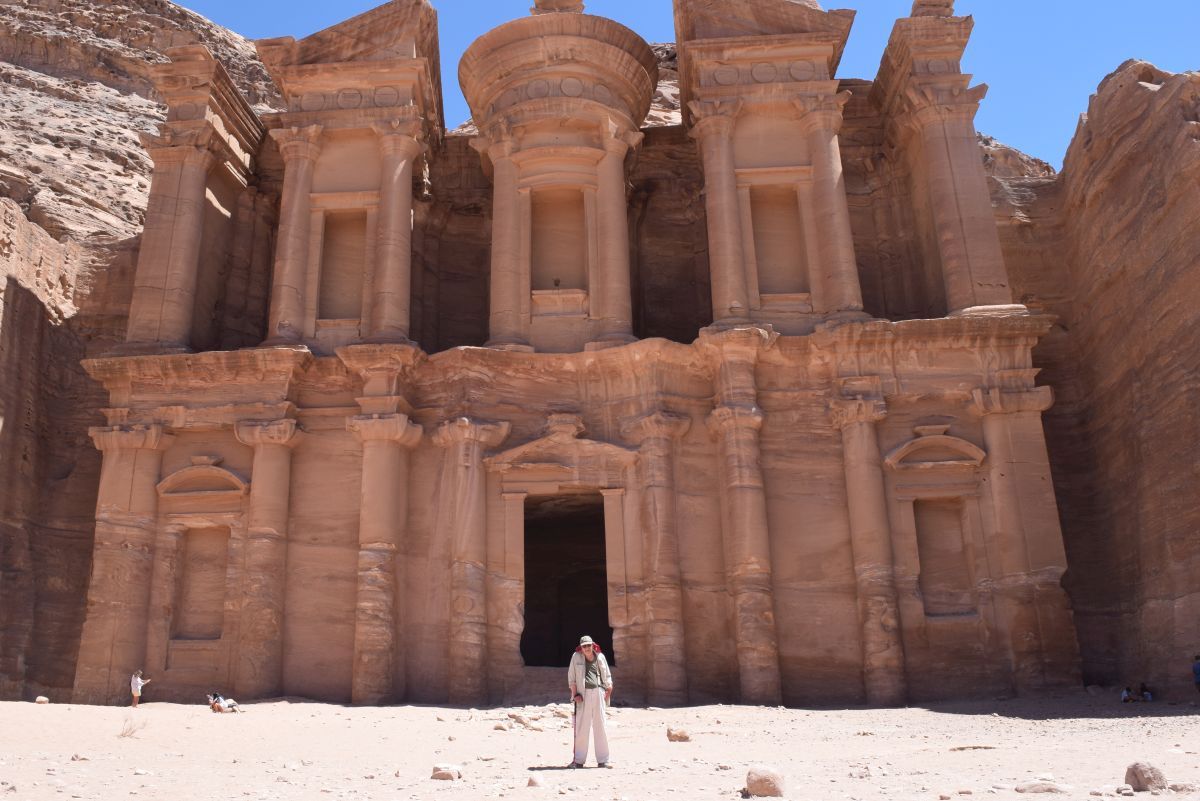 We went next to Wadi Musa (the Valley of Moses) – and we climbed up the 900 stairs to The Monastery in Petra. It is really impressive! It's larger than The Treasury – and this World Heritage treasure has been well maintained.
Jordan, August 2022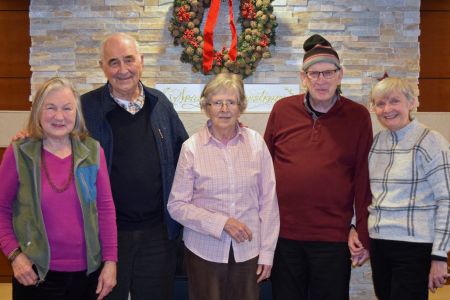 We were off for our annual visit to Alberta. On our first day there we visited with one of Marilyn's University of Alberta classmates in Calgary. And a missionary couple that we met in Kenya several years ago joined us for lunch.
Alberta, December 2021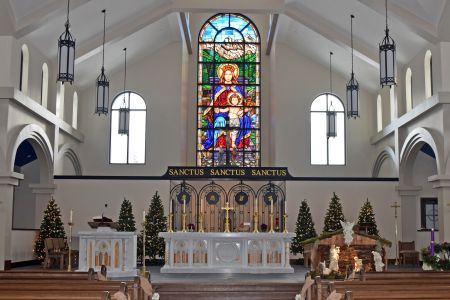 We stayed in friends' homes in Canmore, and we attended mass there in the beautiful new Shrine Church of Our Lady of the Rockies. It looked like a very modern version of cathedrals we've seen in Europe – only with views of the mountains that surround it.
Alberta, December 2021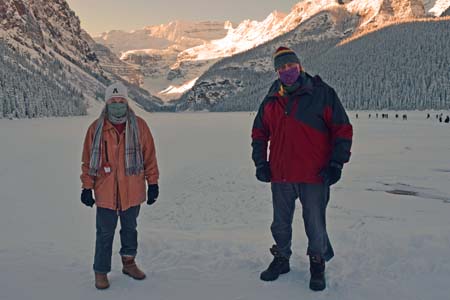 Lake Louise is one of our favorite places in the Rockies. There is always lots of snow there. It was -24 C (-11 F) the day we went there to take our Christmas photo.
Alberta, December 2021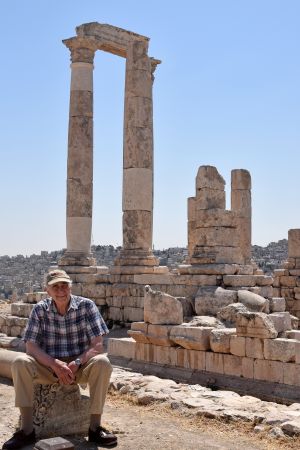 We just walked down the hill from our hotel, Jabal Amman, and then up the hill on the left, and we saw the
Temple of Hercules
in the Citadel on a hill about a mile away. Up close, the remains of these structures from Roman, Byzantine and early Islamic times were very impressive. It is difficult to imagine how these huge heavy rocks were lifted and pieced together so well that they are still standing there today.
Jordan, August 2021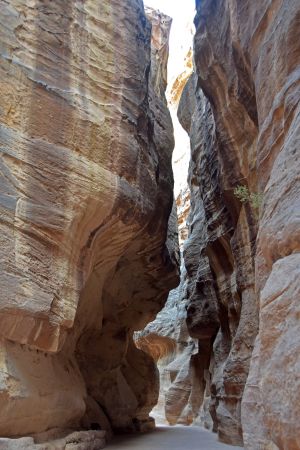 We walked through the incredible cliffs of
Petra
– and sometimes we were the only people there. We were told that before Covid, there were sometimes 100,000 visitors there on any given day. This route through the mountains was used by the caravans of traders going from Egypt to Turkey with camels.
Jordan, August 2021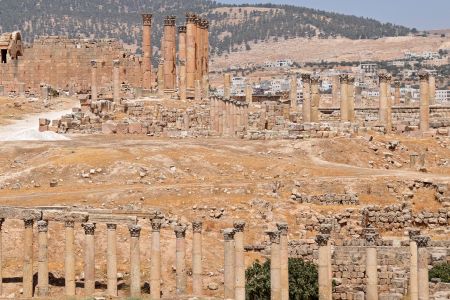 We went to
Jerash
, which is an hour drive north of Amman, and saw the temple of the Greek God, Zeus. The current structure, built on the ruins on of an earlier sacred site, was erected in 162 AD.
Jordan, August 2021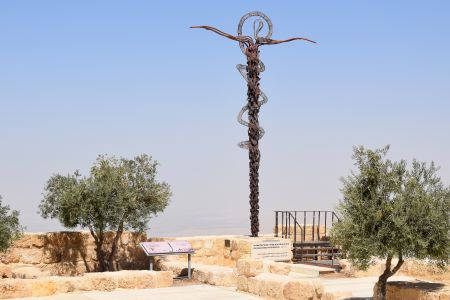 Moses saw The Promised Land from the top of
MT Nebo.
It was hot and very hazy the day that I (Marilyn) visited this site, while John was in isolation back in our hotel room. I didn't think The Holy Land looked very promising – and I'm really glad that we were not wandering around out there in this barren land in the heat with Moses for 40 years.
Jordan, August 2021

We flew to Calgary for our annual trek to Alberta. Then we went to Canmore for a few days, and to Lake Louise, in Banff National Park. We love this beautiful place in the Canadian Rockies in the winter when it's frozen and covered with fresh snow.
Alberta, December 2019
Marilyn's father arrived in Canada in 1929, and now there are 71 members in his family. Marilyn has five siblings, 13 nephews and three nieces, and 12 grand nieces and 14 grand nephews, and one great grand nephew.
Alberta, December 2019

One of our traditions when we visit Marilyn's home in Alberta is to go to the cemeteries where her parents, grandparents and great grandparents are buried. It is a time to remember all that they did for their families.
Alberta, December 2019
We found the "Court of the Lions" book in the Sayen supermarket in Meru - and then we visited the court of the lions in the Alhambra in Granada. Originally the twelve lions took turns spouting water – a different one for each hour. But, since the sultan was forced to leave at the end of the 15th century, no one has been able to convince them to do it.
Granada Sepember 2019

In Barcelona, we travelled by subway, cable car and gondola to the castle (it looked more like a fortress to us) on the highest cliff overlooking the harbor on one side and the city on the other. And we went underground to walk among Roman ruins from thousands of years ago.
Barcelona September 2019
We got lost several times on Santiago de Compostela's winding, narrow streets and alleys - and everywhere we went was uphill from our three hundred year old hotel. We heard bagpipes one afternoon, and then found ourselves in a crowd of tourists who were all taking photos, with their cell phones, of local dancers in exquisite traditional costumes.
Santiago Sepember 2019
Then, for three days, we took taxis each morning to a half-way point, and then walked about 10 mies on the Camino through forests, farmland and small villages to inns, where we enjoyed local wine and a hearty meal. On the fourth day we reached Finisterre, the end of the world as it was known before Columbus sailed the ocean blue.
Finnisterre September 2019
It was too warm when we arrived in Calgary, Alberta, and there was no snow there. But we had a couple of days of great cross-country skiing at Lake Louise in Banff National Park. There's always a lot of snow up there at nearly 6,000 feet. And there was snow too at Emerald Lake in Yoho National Park in British Columbia. We love the Canadian Rockies - when the sun shines and skies are blue, and there's a foot of fresh powder snow.
Alberta, December 2018

Marilyn has four brothers and a sister in Alberta - and thirteen nephews and three nieces, one of whom is Marilyn's godchild. We managed, by driving from place to place, to see 43 of the 64 people in her Matthiessen family, as well as some cousins and long time friends. It was good to be back there, where she grew up, and to see so many of her family members, especially two babies born since we visited there a year ago.
Alberta, December 2018
We drove to Pittsburgh for the ASME Annual Conference, and on our way there, we stopped in Sewickley to spend some time with friends. It was good to be with them. They were married four years ago at
Noroton Presbyterian Church
in Darien, and since then they have enjoyed their new life in their new home and their new church with their many new friends there.
Pittsburgh November 2018

Marilyn toured
Fallingwater
, the Kauffman family weekend home designed by Frank Lloyd Wright. It is constructed of sandstone, quarried on the 5,000 area property, and built on rock above a water fall. The Kauffmanns enjoyed communing with nature in this idyllic home from 1935 to 1963.
Pennsylvania November 2018
We flew from Nairobi to Dubai, and then on to Athens, where we stayed for five days in a small hotel just a couple of blocks from the entrance to the Acropolis. We walked to the top to see The Pantheon, which was built in the 6th century BC, and is now a huge reconstruction project.
Athens August 2018

Then we flew to Santorini, an island in the Aegean Sea, which was formed by a volcano eruption four hundred years ago. Today thousands of people go there on holiday in the summer months to see the spectacular cliffs, the white washed buildings and the beautiful sunsets.
Santorini August 2018
We enjoyed a couple of days in Canmore, Alberta, and some cross country skiing at Lake Louise, in Banff National Park. There was lots of fresh snow and sunshine, and the mild temperature was wonderful. Lake Louise is one of our favorite places in the Canadian Rockies.
Lake Louise, December 2017

There are now 62 members in Marilyn's family. She is the eldest, the matriarch, and the youngest is just two months old. Her five siblings and 16 nieces and nephews and their families live in seven locations, so we travelled from place to place to visit 44 of them.
Alberta, December 2017
Marilyn and four of her University of Alberta classmates have a tradition of getting together for brunch in Calgary every New Year's Day. This time only two attended, as one was in bed with a cold and another felt that driving on the icy roads would be too treacherous.
Alberta, December 2017

We were in Tampa, Florida for the American Society of Mechanical Engineers Conference - and while John was in meetings, Marilyn toured St. Pete's, the cultural capital of Florida with its 32 museums. The Dale Chihuly Collection was stunning.
Florida, November 2017
After the ASME meeting, we visited a friend in Sarasota and got caught up on what's happened in our lives during the ten years since we last spent some time together. We walked on the beach - on white sand, like we've never seen before - anywhere.
Sarasota, November 2017

We spent time in Tampa with Al Barrett and his wife Gail. Al is the founder of the
Threads of Hope Sewing School
in Kenya. We've known him since 2005 (our first summer in Kenya), but only through e-mail and phone calls. One of our Masai students just finished the tailoring course at his school, and now she wants to set up her own small sewing business. Her church in Bissil has a space for her to work in - so all she needs to get started is a sewing machine and some supplies and some textiles.
Tampa, November 2017
We visited our Maryknoll Missioner friend Russ in Phnom Penh. Maria, another Maryknoll Missioner, teaches history at a university there and she had given her students a treasure hunt as an assignment. We went in a tuk tuk on the same treasure hunt to see the sights. Russ, who set up the
St. John Bosco Education Trust,
transferred to Cambodia a year ago after being in Kenya for 15 years.
Phnom Penh, September 2017

Then we went to Siem Reep and Angkot Wat, a UN Historical Site, where we walked a lot and went up and down lots of stairs and in and out of lots of temples built in the 12th century. One million people lived there then- and 100,000 of them worked to build these stone structures - with the help of 40,000 elephants who moved the huge stones. These temples were lost in the trees, whose roots found their way through crevices in order to survive.
Cambodia, September 2017
Our next stop was Hanoi, where we stayed in the old section. The young people there drive motorbikes, dress fashionably Western, enjoy coffee at Starbucks and like to practice speaking English. There are many new high-rise buildings next to three or four story tube houses - some from the French era.
Hanoi, September 2017

The movie "Indochine" is why we wanted to see the 2000 mountain islands in Ha Long Bay. It is also a UN Historical Site, as well as one of the Seven Natural Wonders of the World. We were so blessed, as it was low season and we had our "Indochine Sails" boat (the Valentine) all to ourselves.
Vietnam, September 2017