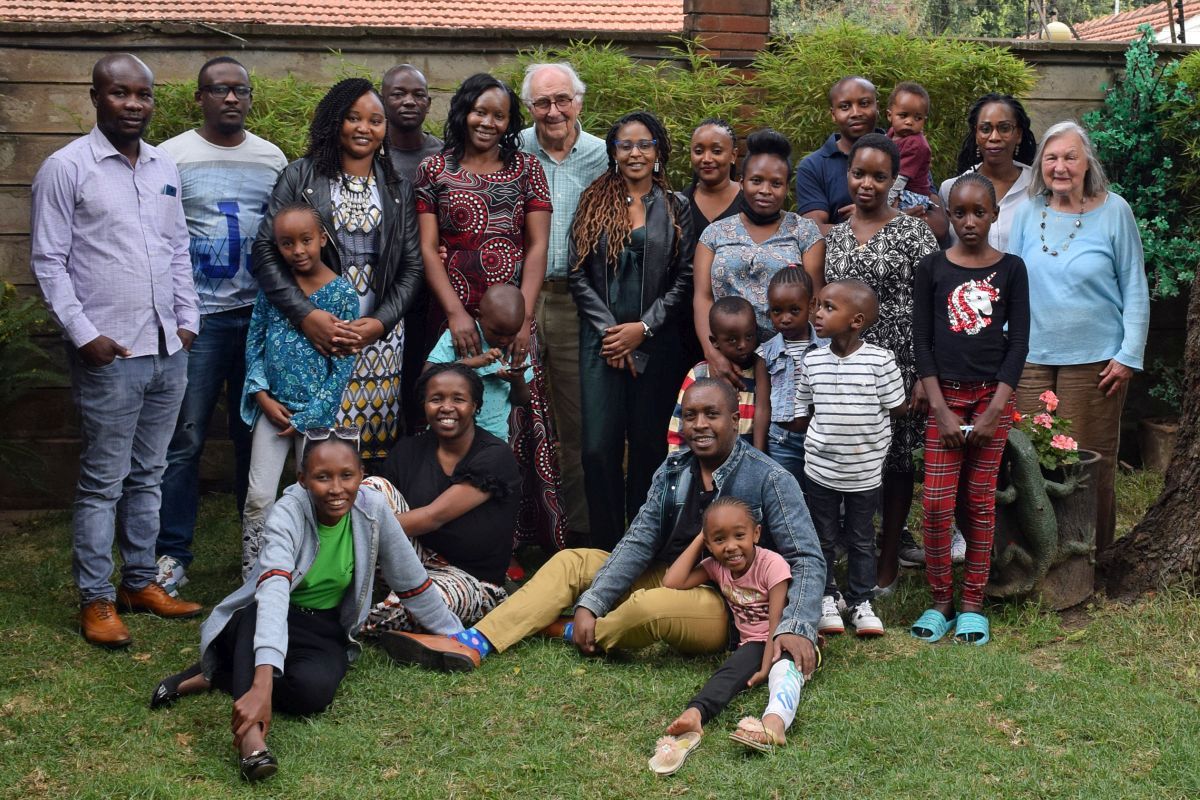 The Sunday before we left Kenya, ten young friends, and their husbands and children, joined us for lunch. We have known them for more than 10 years – some since 2005 when we and they lived together in Tumaini Children's Home in Nyeri.
Kenya, August 2022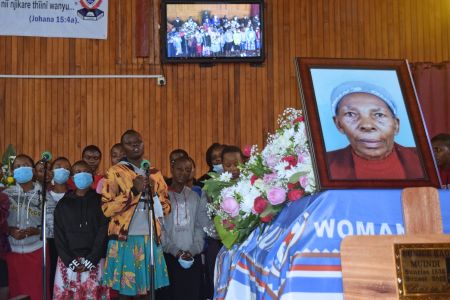 We attended the funeral for Eunice Muindi. She was the wife of Rev. Bernard Muindi who founded Tumaini Children's Home, and she was shosho (grandmother) for the 77 young people who live there now, as well as for all the alumni who have lived there since Tumaini opened in 2005.
Kenya, July 2022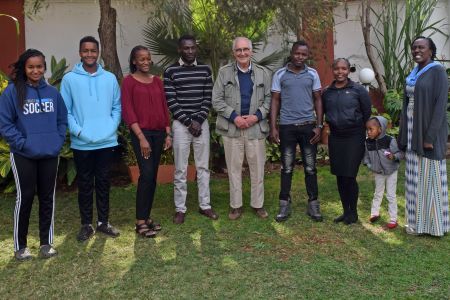 We and some of our young friends enjoyed lunch with a Meru friend's sister and her teenage twins. They are from Texas and are spending six weeks here visiting family, going on safari, swimming in the Indian Ocean and relaxing on a beach near Mombasa.
Kenya, July 2022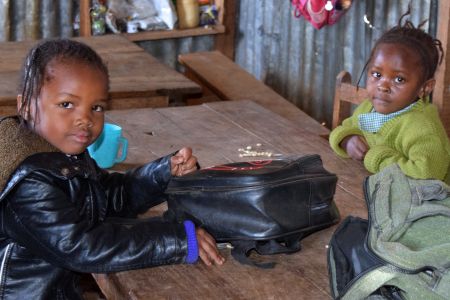 We visited the four-year-old daughter of a young woman whom we have known since she was in this same primary school. It is the poorest school we have seen this year – in one of the driest areas we've been in.
Kenya, July 2022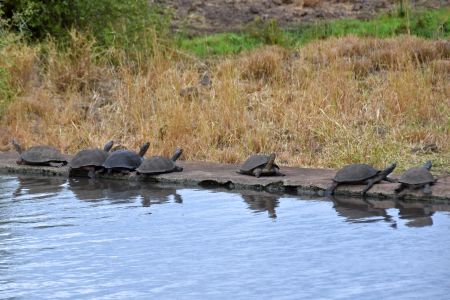 We went on safari for two days in Meru National Park, where we saw some creatures that we've never seen before in a wildlife park or a conservancy – seven turtles on the edge of a water pan that was home to many hippos, and a Monitor Lizard.
Kenya, July 2022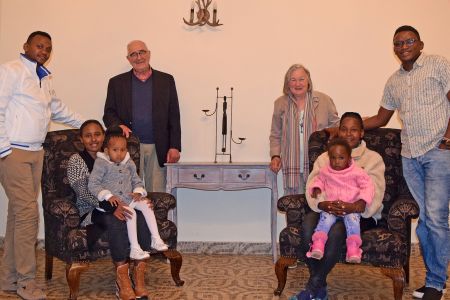 We visited two young families in Nyrahururu. We have known the two fathers since 2005 when they were in secondary school – and now they have good jobs with Hand-in-Hand, a Swedish NGO that helps women to set up small businesses.
Kenya, June 2022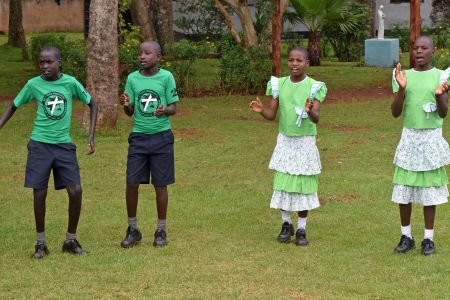 We spent a week in Kitale visiting 50 St. John Bosco students who are sponsored by people of St. John Church in Darien, CT. Our last day there was Parents/Guardians Day, and students in the Rehab program treated everyone with their dances.
Kenya, June 2022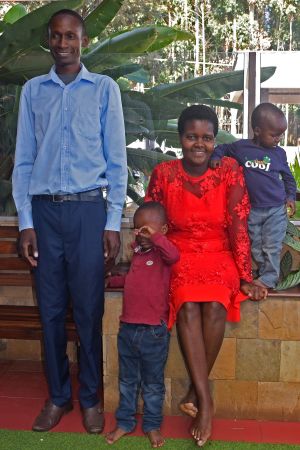 After church services on Sunday, friends in Eldoret joined us for lunch at Java House in Rupa Mall. Both parents are electrical engineers. We have known the mother since 2008, when she had finished secondary school. Then she went to Mombasa to study for five years. Now she is with Kenya Power, and she no longer climbs poles. She monitors the transmission of electricity on her computer.
Kenya, June 2022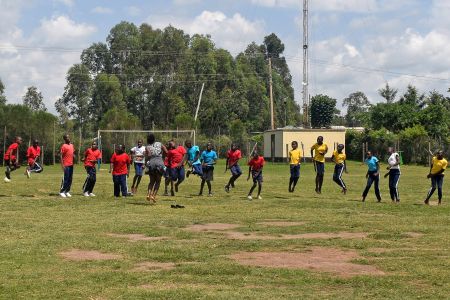 We visited Nambale Magent School where there are 403 students, and 130 of them are sponsored by Noroton Presbyterian Church and several other churches in CT. We enjoyed watching students jump like Masai warriors do. The new curriculum includes this traditional activity.
Kenya, June 2022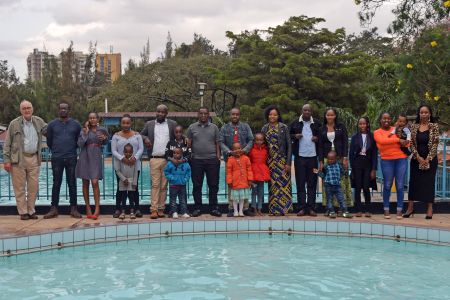 And just three days after we arrived in Nairobi, we had lunch by the pool at Methodist Guest House with some of our young friends there. We have known some of them since 2005 when we spent our first summer in Kenya.
Kenya, May 2022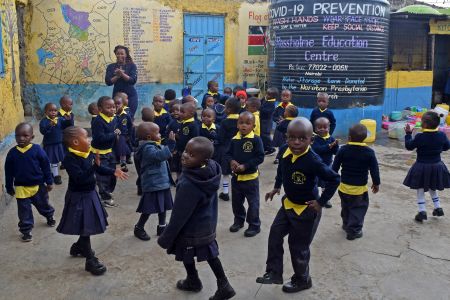 We spent two days at Rossholme Education Centre in Kiambiu slum in Nairobi. It opened just six years ago with 35 students, and now there are 371 students in 10 classes. Thanks to a major donor in the UK there are now 11 laptops.
Kenya, May 2022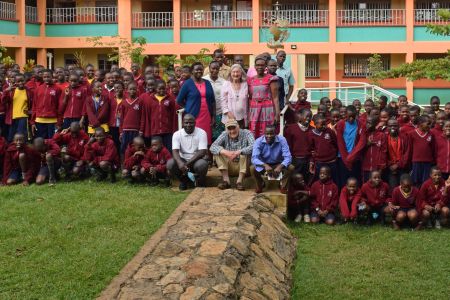 We spent three days at Nambale Magnet School in Western Kenya, where there are over 400 students, and we took photos of 83 students who are sponsored by WIKS-USA. These children all have prayer partners who have gotten their photos so they can see their faces as they pray for them to be well and to do well in their studies.
Kenya, July 2021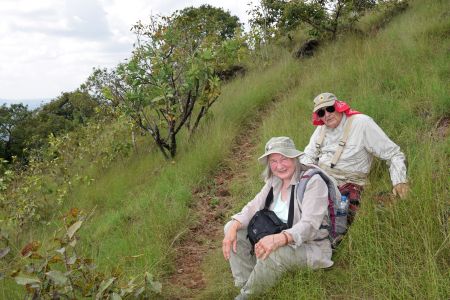 We have stayed at Rondo Retreat and Conference Centre in Kakamega Rain Forest every year since 2009 when we first visited NMS. This year we stayed over a day to hike up the mountain and to see the many kinds of trees, birds, butterflies and monkeys - and for the view of the tea farms in the valleys beyond the forest.
Kenya, July 2021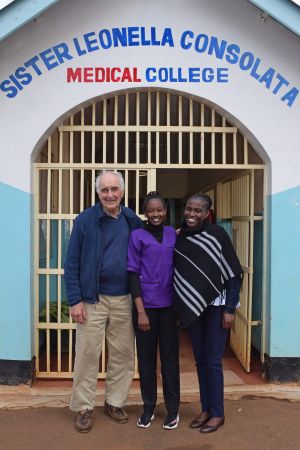 We visited a young Masai woman at Consolata Medical College in Nyeri, where she has learned how to operate the equipment used in the theatre during surgeries. She is now doing her internship, as well as studying to raise her Maths grade so that she can start the diploma nursing program next May. One of her teachers is a young woman we have known since 2005 when we and she lived in Tumaini Children's Home in Nyeri.
Kenya, July 2021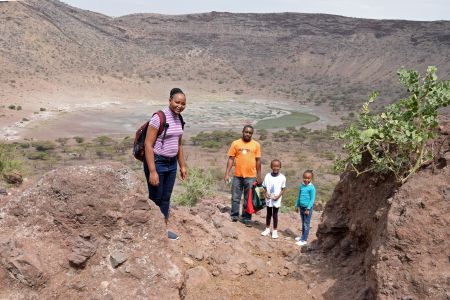 We and our Life Ministry friends from Nairobi went to Magado Crater. It was a two-hour drive north of Meru to a place that looked like the end of the earth. Local herdsmen and boys were taking goats and cattle down rocky, steep trails to the bottom of the crater to drink from alkaline pools - the only source of water for miles around. Some women were there too, collecting lumps of salt to sell as licking salt for animals.
Kenya, July 2021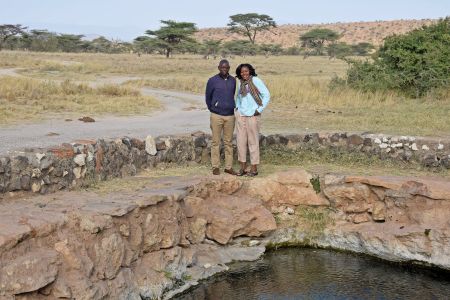 We went on a one-day safari in Buffalo Springs Reserve with friends who are teachers. Both come from family homes near Lake Victoria - and neither of them had ever been on a safari to see Kenya's wildlife. They had only been to The Giraffe Centre and The Elephant Orphanage in Nairobi.
Kenya, July 2021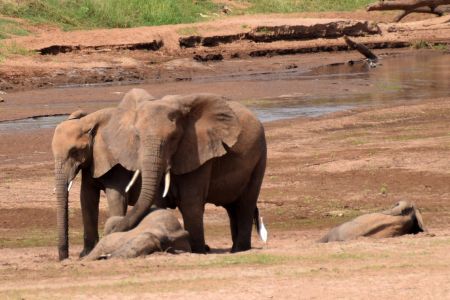 We went on a two-day safari to Shaba National Park. We saw baby elephants sleeping in the middle of the Ewasa Nyira River, which is almost dry. Many animals will die by end of August, if there is not lots of rain before then.
Kenya, June 2021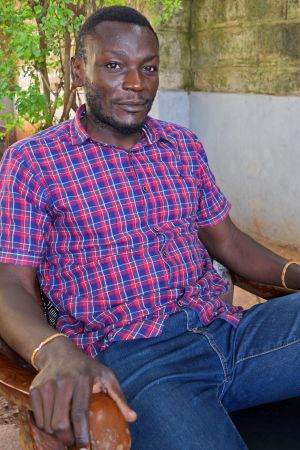 Our hero of this past year is a second year Med student, who is studying at KeMU (Kenya Methodist University). While KeMU was closed, he cared for Covid patients in isolation in Lodwar, up near Lake Turkana, where his family and home are. Conditions were less than ideal – ventilators were unassembled and in storage, and there was insufficient oxygen for a patient being transferred to Eldoret.
Kenya, June 2021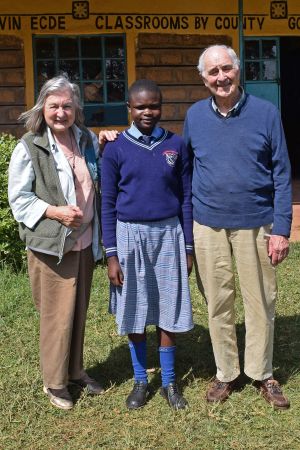 In Kitale, we visited the 50 students who are sponsored by people of St. John Church in Darien, CT. Two of these students, a 13-year-old girl in St. Columban Primary School and a 23-year-old young man in St. Bridget Secondary School, are deaf. At the end of both primary and secondary school, they will write the same National Exams that non-deaf students write.
Kenya, June 2021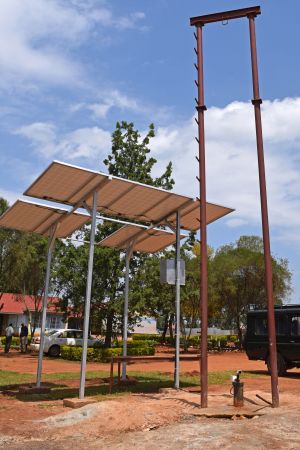 At St. Paul Boys High School in Kitali, we were happy to see a new borehole and solar panels to run a pump. This school is in a very dry area, so now there will be lots of water for all the students and for many people in the surrounding community.
Kenya, June 2021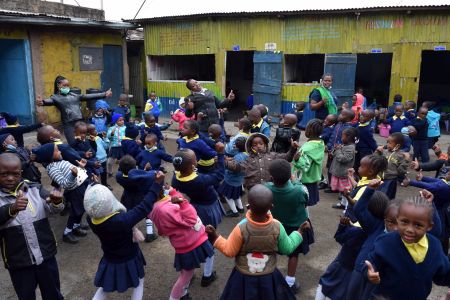 In Nairobi, we visited Rossholme Education Centre in Kiambiu slum. There are now 237 little students there in six classes. At the end of July, when everyone advances and the grade 4 students move ahead into grade 5 and new Play Group children arrive, there will be 260 students.
Kenya, May 2021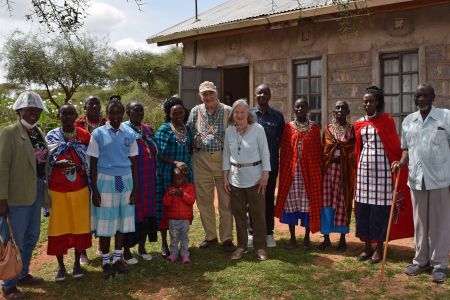 We went to Bisil, which is on the way to Tanzania, to visit three young Masai women. One is in second year of secondary school, one has finished secondary school and wants to go to an agricultural college, and one has her own sewing business. Some mothers and members of their Friends Church joined us for our lunch under the tree.
Kenya, May 2021
Our Life Ministry friends, Caroline and Paul, and their two litte girls, spent a couple of days with us in Meru. And they accompanied us to Ripples Int'l, where Marilyn took photos of the 34 little children in New Start. All of them would love to have a family that would love and care for them as Tehillah and Emunah are by their parents.
Meru, Kenya August 2019

We left early one morning on a day safari in Samburu Reserve. At this time of the year, several months after the rains, there was very little green grass and we wondered what the animals ate. Elephants, it turns out, eat just about anything, maybe even weaver bird nests?
Samburu Reserve, Kenya August 2019
Some of our young friends in Meru joined us on our last Sunday there for our farewell lunch at The Red Tomato. Everyone enjoyed pizza baked in a wood burning brick oven - the only one we've seen anywhere in Kenya.
Meru, Kenya August 2019

We and two young friends walked the streets of Meru with lots of supporters of the often hidden children who have cerebral palsy, autism, dyslexia and Downs Syndrome. This Wheel and Walk event was sponsored by
Furaha Day Care Centre
which offers quality day nursing care, play, meals, sensory integration and occupational therapy for these exceptional children.
Kenya July 2019
We visited a sponsored student at St. James Secondary School in Ruiri. It is an oasis in a semi-desert area. A borehole was drilled there two years ago - and water has been flowing, without a pump, ever since. There are now bananas growing on the school grounds, and lots of maize and beans in the surrounding shambas.
Kenya July 2019

The grandparents of another sponsored student now have electric lights in their home. "The Last Mile" of the Rural Electrification Program has brought power to many people who have lived all their lives without it, on the small plots of land they were given after Kenya won its Independence in 1964.
Kenya July 2019
We left Meru early one morning, before sunrise, and in less than two hours were at Sweetwaters Game Reserve, a 24,000 area private ranch with a magnificent view of MT. Kenya. Sweetwaters includes Ol Pejeta Wildlife Sanctuary, where we said hello to Baraka, a blind rhino, and the Sweetwaters Chimpanzee Sanctuary, founded by Jane Goodall, where we met five chimps.
Kenya June 2019

After our game drive, we went to the MT. Kenya Safari Club, now a Fairmont Hotel, for lunch. It is 100 acres of beautifully landscaped grounds. Founded in the 1950's colonial era by William Holden, it was a private haven for him and other movie stars, including Robert Redford. Remember him in "Out of Africa"?
Kenya June 2019
We attended the graduation ceremony at Kabuni Technical Training Institute. One of our young friends, whom we have known since 2009 when she was in primary school, received her Diploma in Community Development. It was a colorful event as several thousand parents and guests gathered there to celebrate with the five hundred and thirty graduates.
Kenya June 2019

We spent a week in Kitale where we visited 42 of the 50 students who are sponsored by St. John Church in Darien, CT. They are in seven schools, so every day for four days we were on the roads. We also saw the remaining eight students at St. John Bosco Centre on Parents and Guardians Day. And on Saturday, we visited the homes of three students.
Kenya June 2019
We visited Vivian at the Law School in Karen, where she and 1500 others are preparing to write the Bar Exam in November. Then in January, when she learns that she has passed, we pray, she wants to work with the Capital Markets Authority or a law firm that deals with securities.
Kenya May 2019

We had pizza and ice cream with Caroline and Paul and Tehillah, which is Hebrew for praise, and Emunah, which is faith in Hebrew. Caroline and Paul both have leadership roles with Life Ministry Kenya, which is part of CRU (formerly Campus Crusade). Paul recently spent two weeks at a conference in Zimbabwe with LM leaders from many other countries in Africa.
Kenya May 2019
And the day after we arrived in Meru, we attended church and had lunch with three of the five young people here that we've known and helped to go to school since 2009. One is graduating from a Training Insitute next week, one will finish a Business Management course in September, and the other one is looking for electrical installation work.
Kenya May 2019

We also saw Joyce at her home and at
Rossholme Education Centre
, the school she started almost three years ago, in Kiambiu slum in Nairobi. Marilyn took photos of 140 of the little students there - and Felister, a young nurse from Nyeri that we've known since 2005 when we and she lived in Tumaini Children's Home, weighed and measured the students. Only one was at risk of being malnourished.
Kenya May 2019
Pope Francis said "Walking, always being on the way, means always communicating" - and three of young friends (one from Meru and two from Nairobi) walked from one end of Meru to the other end to show that they care about children with Cerebral Palsy and Autism. Our new friend Mareck, who came from Poland 20 years ago, organized the walk to promote the
Furaha Centre
in Meru, which he founded and directs.
Kenya August 2018

Caroline and Paul, who are both with
Life Ministry Kenya
, visited us in Meru after spending some time with their three LMK colleagues in Isiolo. Having a vehicle has made trips like this outside Nairobi possible for them and two little girls. They are so grateful for everyone who helped them to purchase their VW last December.
Kenya July 2018
We visited Benson who is in Form One at St. Bridget's Secondary School for the Deaf, near Busia and the border of Uganda. It opened in 2010 - and it's the first of its kind, as a third of the students are from the surrounding community and they are not deaf.
Kenya July 2018

Destiny Shapers is a new creche and kindergarten in Meru. It was started by a friend who was with Ripples International and whom we have known for the 10 years that we lived in Meru. What she did in three months to get her school up and running is truly amazing.
Kenya July 2018
We met her ten years when she was in nursery school and in the Chemichemi program of
Ripples International
. Her home has no TV nd she hasn't seen fashion magazines; but she likes to pose for photos and to take photos too of her family members. The government's "Last Mile" program has provided a pole in the family's compound, but there'll be no power 'til her mum can pay for the wiring and connection.
Kenya July 2018

Going on safari in Meru National Park, where there are very few tourists, and staying in a banda, is almost liking going back a hundred years. The landscape is the same - and so are the animals - only we aren't Karen Blixen and Denis Fitch-Hatten. We've gone safari many times - and have been to almost all the parks - and we have seen all animals. But every once in a while we see something we've never seen before - like two bull elephants challenging each other for territory.
Kenya July 2018
We have a new young friend in Meru. He's from Kitali, and he's studying medicine at KeMU (Kenya Methodist University). Another young friend is studying at KIM (Kenya Institute of Management), and others are graduates in IT, Nutrition and Community Development.
Kenya June 2018

There was more rain in Kenya during the long rains season than there had been in 20 years - so there's lots of grass in Samburu Reserve for the elephants, and they have stayed together in large groups. While on a short safari there, we were often surrounded by many elephants.
Kenya June 2018
Our favorite home away from our Meru home is Simba room in Turaco Cottage at Rondo Retreat Centre in the Kakamega Rain Forest. The forest is home to many birds - and Rondo is a quiet and peaceful place, where we can be still and know God. Our friend, who plays the guitar and sings, really liked Rondo, and he wants his church group to go to there for their retreat in December.
Kenya June 2018

We spent four days at
The Nambale Magnet School
where there were 392 students in 12 classes, quite an increase from the 35 students that entered in 2009. All of the students have prayer partners in the US, and they will get photos of the children that they're praying for.
Kenya June 2018
The Methodist Guest House, in the Lavington area of Nairobi, was our home away from home. We enjoyed living in the Bishop's Suite, with its balcony above the swimming pool, where we saw the sun rise and heard birds in the morning. Our young Life Ministry friends and their two beautiful daughters also enjoyed being there with us on Saturday morning - and then we all enjoyed having pizza for lunch.
Kenya May 2018

On Sunday morning, we took a bus downtown, and met more young friends for mass at the Basilica - and then had lunch with them at Java House. We have known some of these young people since 2005 and 2006 when we, and they, lived in Tumaini Children's Home in Nyeri.
Kenya May 2018
We spent two days at Rossholme Education Centre in Kiambiu slum. The Centre was started by our young friend, Joyce, and there are 100 preschoolers there now. Marilyn took photos of all of them, and a nurse friend weighed the children and measured their upper arms to see if any of them were mal-nourished. None were.
Kenya May 2018

Five years ago, John walked Caroline down the aisle, as father of the bride, and now we are "grandparents" to two beautiful little girls. Caroline and her husband Paul met at Life Ministry Kenya, where they both worked then - and where they still work now.
Kenya August 2017
We got to know Christopher in 2005 and 2006 when we lived at Tumaini Children's Home in Nyeri. Now he manages a Hand-in-Hand office in Nyahururu - and his sister, who was at St. Clare Girls School in Nchiru, near Meru, for her last five years of primary school, is now in Form 3 at Maria Immaculate Girls Centre in Kiambu, just outside of Nairobi.
Kenya August 2017

We have seen many mothers nursing their babies, even in church, but this was the first time for us to see a baby elephant at its mother's breast. We spent two days in Samburu Reserve, and there we saw many babies and youngsters, including those of lions, cheetahs, zebras, impalas, monkeys and baboons.
Kenya August 2017
We enjoyed lunch with our mother and daughter friends - and afterwards, they had fun posing for photos. Just last year, Makena bounced on a trampoline - now she's a beautiful, tall and very poised young lady. And her mother, who attended Kentucky University a few years ago, is now the HR manager at Embu University.
Kenya August 2017