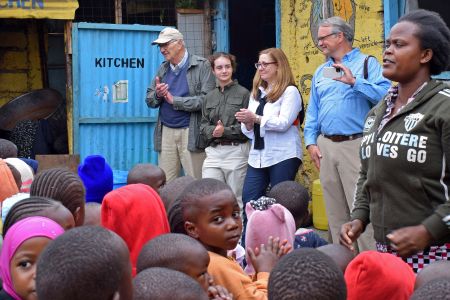 We and the chairwoman of AFLIK (American Friends of Leaners in Kenya) and her husband and daughter spent a Saturday at Rossholme Education Centre in Kiambiu slum in Nairobi. Three hundred children showed up on this non-school day to greet their new friends, play games with them and have a special lunch.
Kenya, July 2023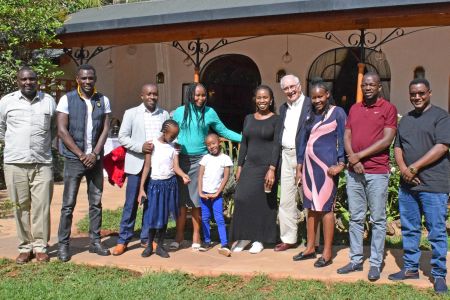 We and some of our young friends in Nairobi attended an early Sunday service at St. Andrew Presbyterian Church along with a mission group from Noroton Presbyterian Church. Then we had lunch in the garden of the former Karen Blixen Coffee House in Karen, which is near The Giraffe Centre where later in the day we visited the endangered Rothchild species who breed there.
Kenya, July 2023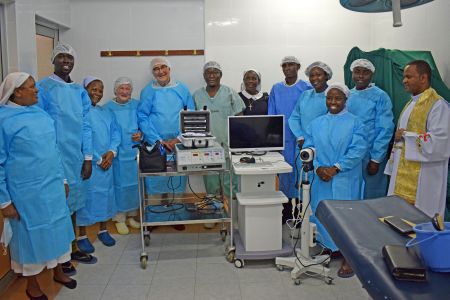 We and two of our Med Student friends traveled to Voi to see the new cervical cancer screening equipment in St. Joseph Shelter of Hope Mission Hospital. It was dedicated in memory of our friend Rita Hornlein Ratti.
Click here
to see more photos of events during that beautiful day.
Kenya, July 2023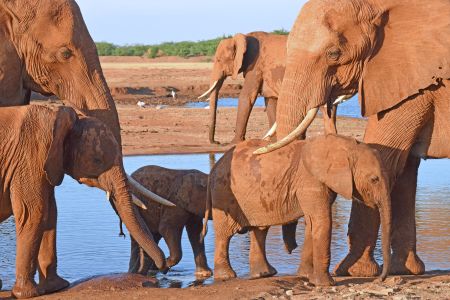 We stayed two nights at the Voi Wildlife Lodge, which is right next to a waterhole in East Tsavo Park. We saved the park entrance fee, and while sitting in the bar and dining room, watched elephants, impalas, waterbucks, zebras – even a hippo – come for a drink, just two fences from us. East Tsavo is where Denys Finch Hatten died in 1931 when his plane exploded after taking-off from the Voi airstrip.
Kenya, July 2023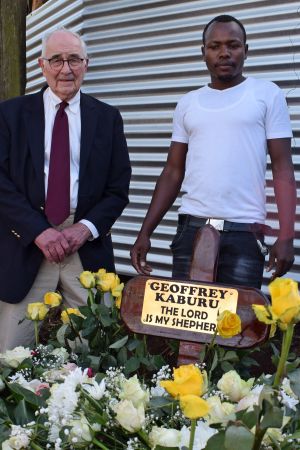 On our first weekend in Meru we attended the funeral and burial of our friend and local taxi driver. It was a daylong celebration of his life with his family and his many friends and neighbors. He was buried next to his home, which is a traditional custom here.
Kenya, June 2023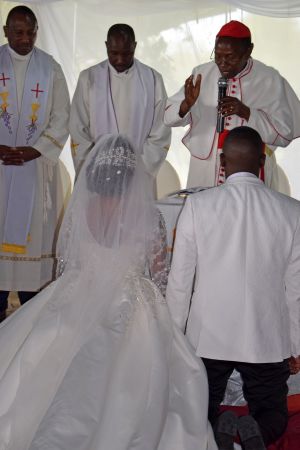 The next weekend we attended the wedding of a young woman that we have known since we and she lived in Tumaini Children's Home in Nyeri. It was also a daylong celebration with their families and friends.
Kenya, June 2023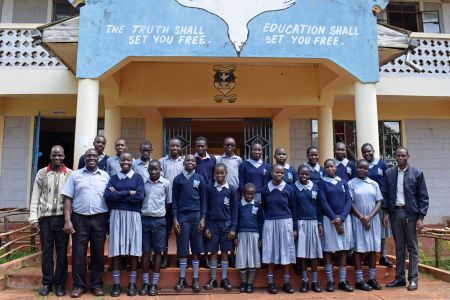 During the last two weeks we visited the St. John Bosco students in Kitali. There are 50 students in primary and secondary boarding schools who are being sponsored by people of St. John Church in Darien, CT.
Kenya, June 2023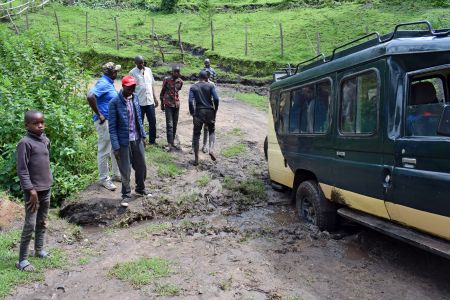 Our visit to the home of one of the St. John Church sponsored students was a real adventure. We climbed up and then went down narrow, winding dirt roads 'til we got stuck in a stream, which was a bit too deep. Fortunately, lots of helpers arrived to dig out the vehicle.
Kenya, June 2023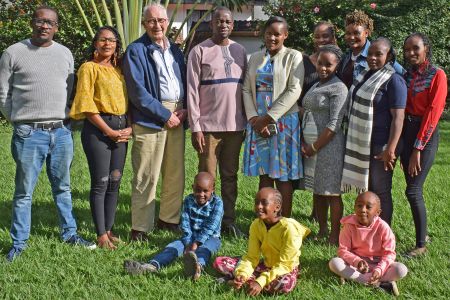 We enjoyed a Sunday afternoon with young friends in Nairobi. The very youngest ones loved the heated pool, while the rest of us enjoyed lunch and gathering afterwards in one of the gardens at Methodist Guest House, where we were staying.
Kenya, May 2023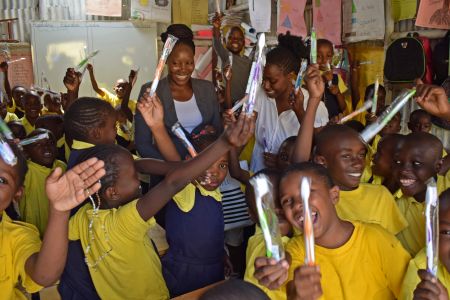 We visited our friend Joyce and Rossholme Education Centre, which she founded in 2016. It is in Kiambiu slum in Nairobi, and there are 422 learners there now. They range in age from 3 years to 14 – and are in preschool and grades 1 to 6.
Kenya, May 2023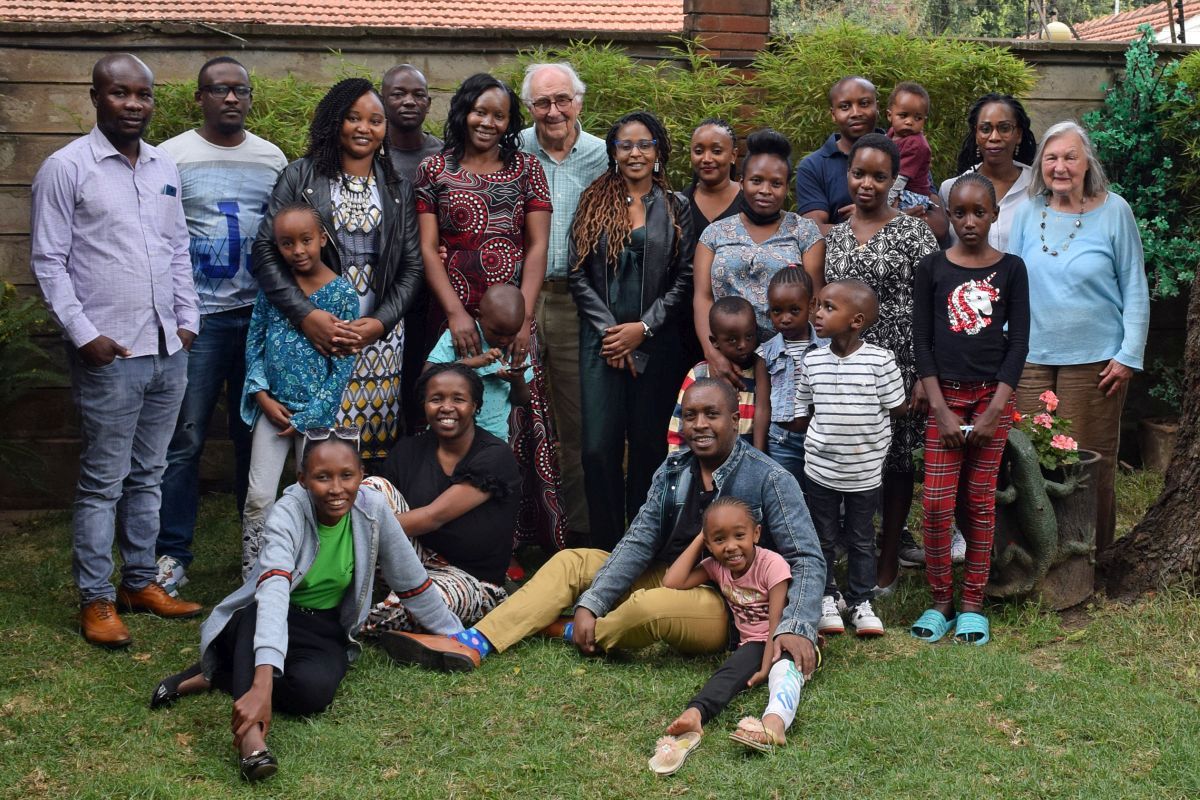 The Sunday before we left Kenya in 2022, ten young friends, and their husbands and children, joined us for lunch. We have known them for more than 10 years – some since 2005 when we and they lived together in Tumaini Children's Home in Nyeri.
Kenya, August 2022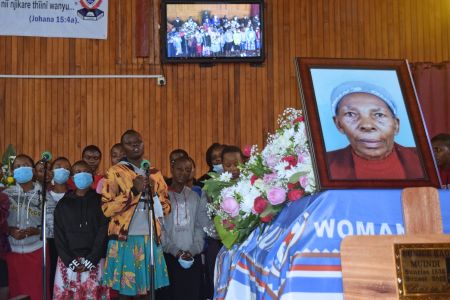 We attended the funeral for Eunice Muindi. She was the wife of Rev. Bernard Muindi who founded Tumaini Children's Home, and she was shosho (grandmother) for the 77 young people who live there now, as well as for all the alumni who have lived there since Tumaini opened in 2005.
Kenya, July 2022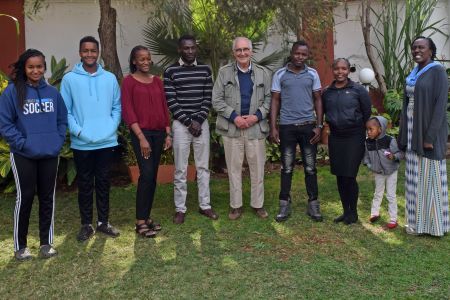 We and some of our young friends enjoyed lunch with a Meru friend's sister and her teenage twins. They are from Texas and are spending six weeks here visiting family, going on safari, swimming in the Indian Ocean and relaxing on a beach near Mombasa.
Kenya, July 2022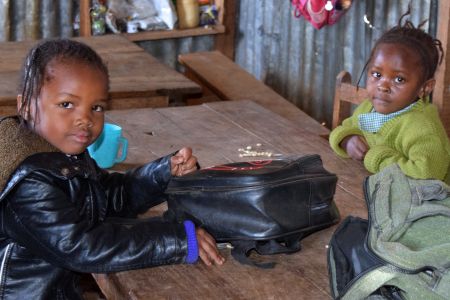 We visited the four-year-old daughter of a young woman whom we have known since she was in this same primary school. It is the poorest school we have seen this year – in one of the driest areas we've been in.
Kenya, July 2022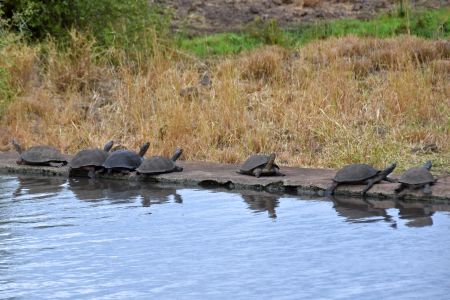 We went on safari for two days in Meru National Park, where we saw some creatures that we've never seen before in a wildlife park or a conservancy – seven turtles on the edge of a water pan that was home to many hippos, and a Monitor Lizard.
Kenya, July 2022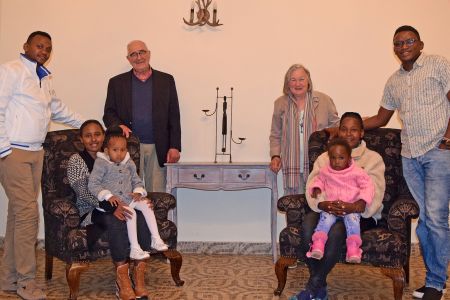 We visited two young families in Nyrahururu. We have known the two fathers since 2005 when they were in secondary school – and now they have good jobs with Hand-in-Hand, a Swedish NGO that helps women to set up small businesses.
Kenya, June 2022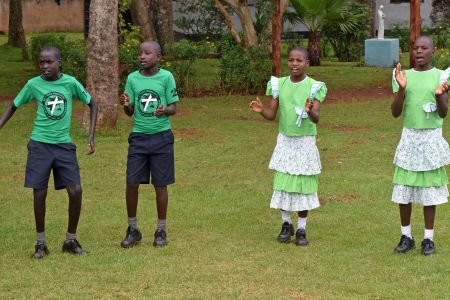 We spent a week in Kitale visiting 50 St. John Bosco students who are sponsored by people of St. John Church in Darien, CT. Our last day there was Parents/Guardians Day, and students in the Rehab program treated everyone with their dances.
Kenya, June 2022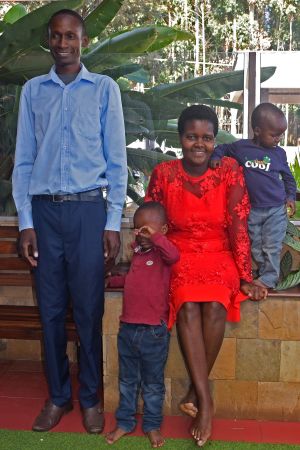 After church services on Sunday, friends in Eldoret joined us for lunch at Java House in Rupa Mall. Both parents are electrical engineers. We have known the mother since 2008, when she had finished secondary school. Then she went to Mombasa to study for five years. Now she is with Kenya Power, and she no longer climbs poles. She monitors the transmission of electricity on her computer.
Kenya, June 2022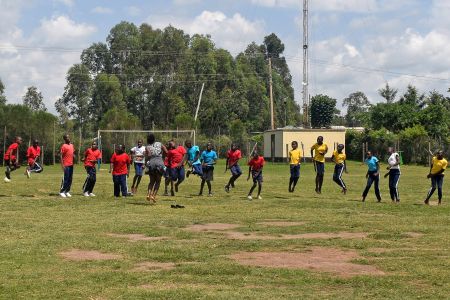 We visited Nambale Magent School where there are 403 students, and 130 of them are sponsored by Noroton Presbyterian Church and several other churches in CT. We enjoyed watching students jump like Masai warriors do. The new curriculum includes this traditional activity.
Kenya, June 2022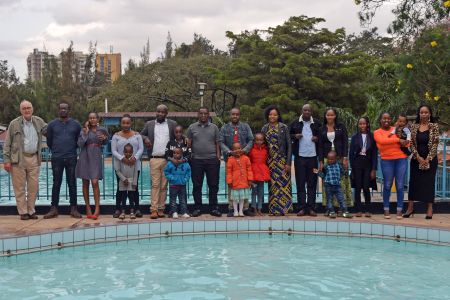 And just three days after we arrived in Nairobi, we had lunch by the pool at Methodist Guest House with some of our young friends there. We have known some of them since 2005 when we spent our first summer in Kenya.
Kenya, May 2022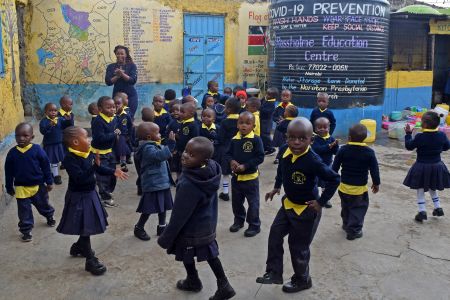 We spent two days at Rossholme Education Centre in Kiambiu slum in Nairobi. It opened just six years ago with 35 students, and now there are 371 students in 10 classes. Thanks to a major donor in the UK there are now 11 laptops.
Kenya, May 2022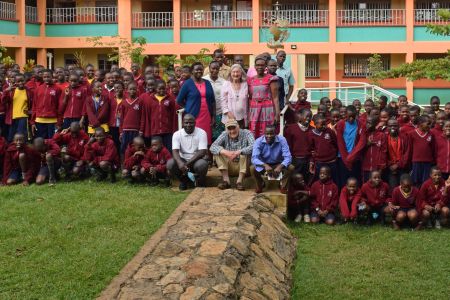 We spent three days at Nambale Magnet School in Western Kenya, where there are over 400 students, and we took photos of 83 students who are sponsored by WIKS-USA. These children all have prayer partners who have gotten their photos so they can see their faces as they pray for them to be well and to do well in their studies.
Kenya, July 2021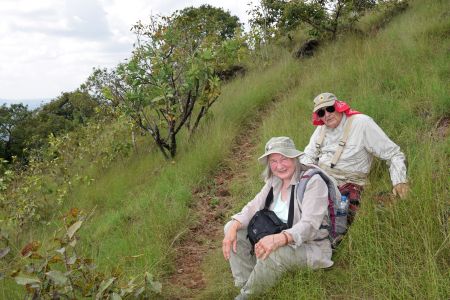 We have stayed at Rondo Retreat and Conference Centre in Kakamega Rain Forest every year since 2009 when we first visited NMS. This year we stayed over a day to hike up the mountain and to see the many kinds of trees, birds, butterflies and monkeys - and for the view of the tea farms in the valleys beyond the forest.
Kenya, July 2021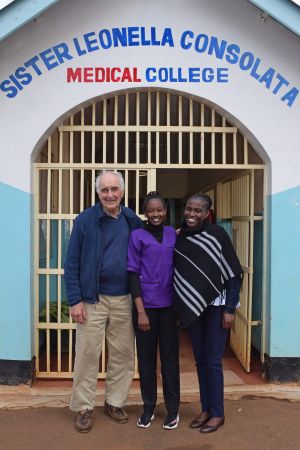 We visited a young Masai woman at Consolata Medical College in Nyeri, where she has learned how to operate the equipment used in the theatre during surgeries. She is now doing her internship, as well as studying to raise her Maths grade so that she can start the diploma nursing program next May. One of her teachers is a young woman we have known since 2005 when we and she lived in Tumaini Children's Home in Nyeri.
Kenya, July 2021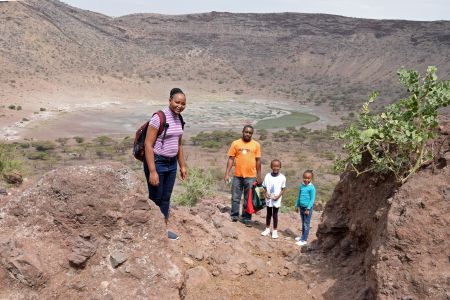 We and our Life Ministry friends from Nairobi went to Magado Crater. It was a two-hour drive north of Meru to a place that looked like the end of the earth. Local herdsmen and boys were taking goats and cattle down rocky, steep trails to the bottom of the crater to drink from alkaline pools - the only source of water for miles around. Some women were there too, collecting lumps of salt to sell as licking salt for animals.
Kenya, July 2021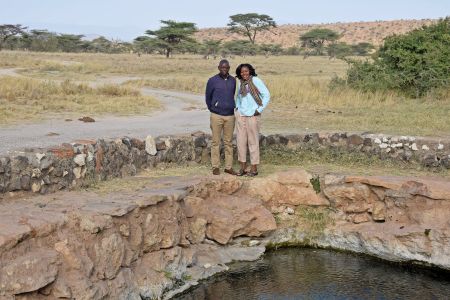 We went on a one-day safari in Buffalo Springs Reserve with friends who are teachers. Both come from family homes near Lake Victoria - and neither of them had ever been on a safari to see Kenya's wildlife. They had only been to The Giraffe Centre and The Elephant Orphanage in Nairobi.
Kenya, July 2021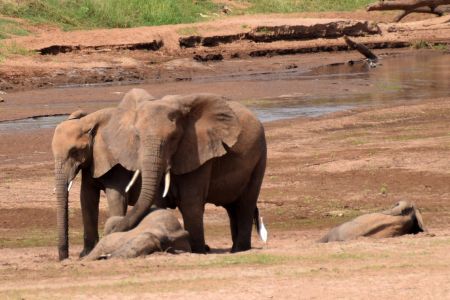 We went on a two-day safari to Shaba National Park. We saw baby elephants sleeping in the middle of the Ewasa Nyira River, which is almost dry. Many animals will die by end of August, if there is not lots of rain before then.
Kenya, June 2021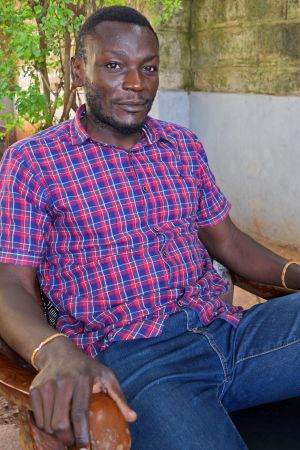 Our hero of this past year is a second year Med student, who is studying at KeMU (Kenya Methodist University). While KeMU was closed, he cared for Covid patients in isolation in Lodwar, up near Lake Turkana, where his family and home are. Conditions were less than ideal – ventilators were unassembled and in storage, and there was insufficient oxygen for a patient being transferred to Eldoret.
Kenya, June 2021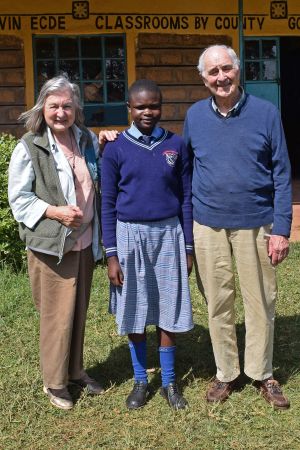 In Kitale, we visited the 50 students who are sponsored by people of St. John Church in Darien, CT. Two of these students, a 13-year-old girl in St. Columban Primary School and a 23-year-old young man in St. Bridget Secondary School, are deaf. At the end of both primary and secondary school, they will write the same National Exams that non-deaf students write.
Kenya, June 2021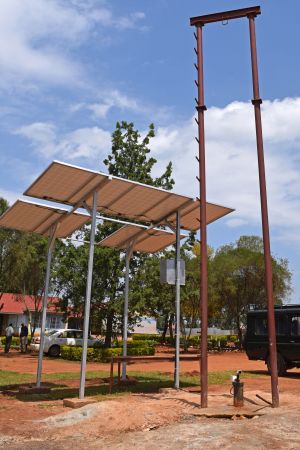 At St. Paul Boys High School in Kitali, we were happy to see a new borehole and solar panels to run a pump. This school is in a very dry area, so now there will be lots of water for all the students and for many people in the surrounding community.
Kenya, June 2021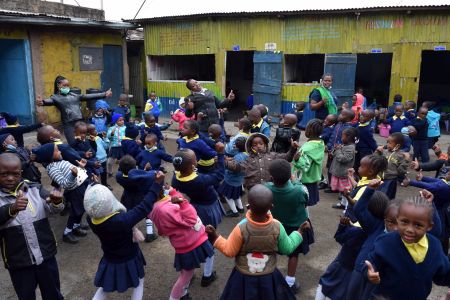 In Nairobi, we visited Rossholme Education Centre in Kiambiu slum. There are now 237 little students there in six classes. At the end of July, when everyone advances and the grade 4 students move ahead into grade 5 and new Play Group children arrive, there will be 260 students.
Kenya, May 2021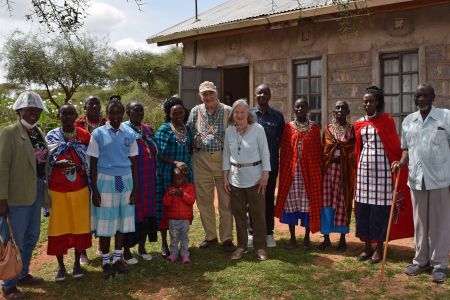 We went to Bisil, which is on the way to Tanzania, to visit three young Masai women. One is in second year of secondary school, one has finished secondary school and wants to go to an agricultural college, and one has her own sewing business. Some mothers and members of their Friends Church joined us for our lunch under the tree.
Kenya, May 2021