We spent our last Sunday afternoon in Kenya with 20 of our young friends and their children by the pool at the Methodist Guest House in Nairobi. Three of them are mission partners supported by Noroton Presbyterian Church in Darien, CT. One is a fourth-year med student, one is an evangelist with Life Ministry Kenya, and one is the founder and head teacher of Rossholme Education Centre.

We flew to Cape Town, South Africa, and stayed in a retreat and conference centre in the wine country for four days. It was a short drive to the beach where there is a colony of African penguins. We saw "baby blues" and chicks, and adult partners who take turns sitting on the eggs and then feeding their little ones.
South Africa, August 2023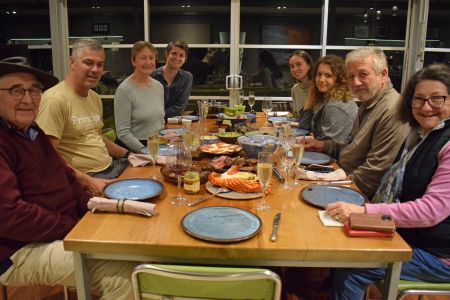 Then in Sydney, Australia, we walked in the Botanic Garden and toured the Opera House, which is a World Historic Site. We also took a train to Wombarra to visit friends, a mother and her violist daughter who had rented our home in CT five years ago while we were in Kenya. And we got to meet the rest of their family and some of their friends too.
Australia, August 2023